What is FuelCell?
The lively, responsive, underfoot feel of FuelCell is built differently to feel differently. FuelCell is our highest energy return performance foam yet, delivering a propulsive feel to help drive you forward.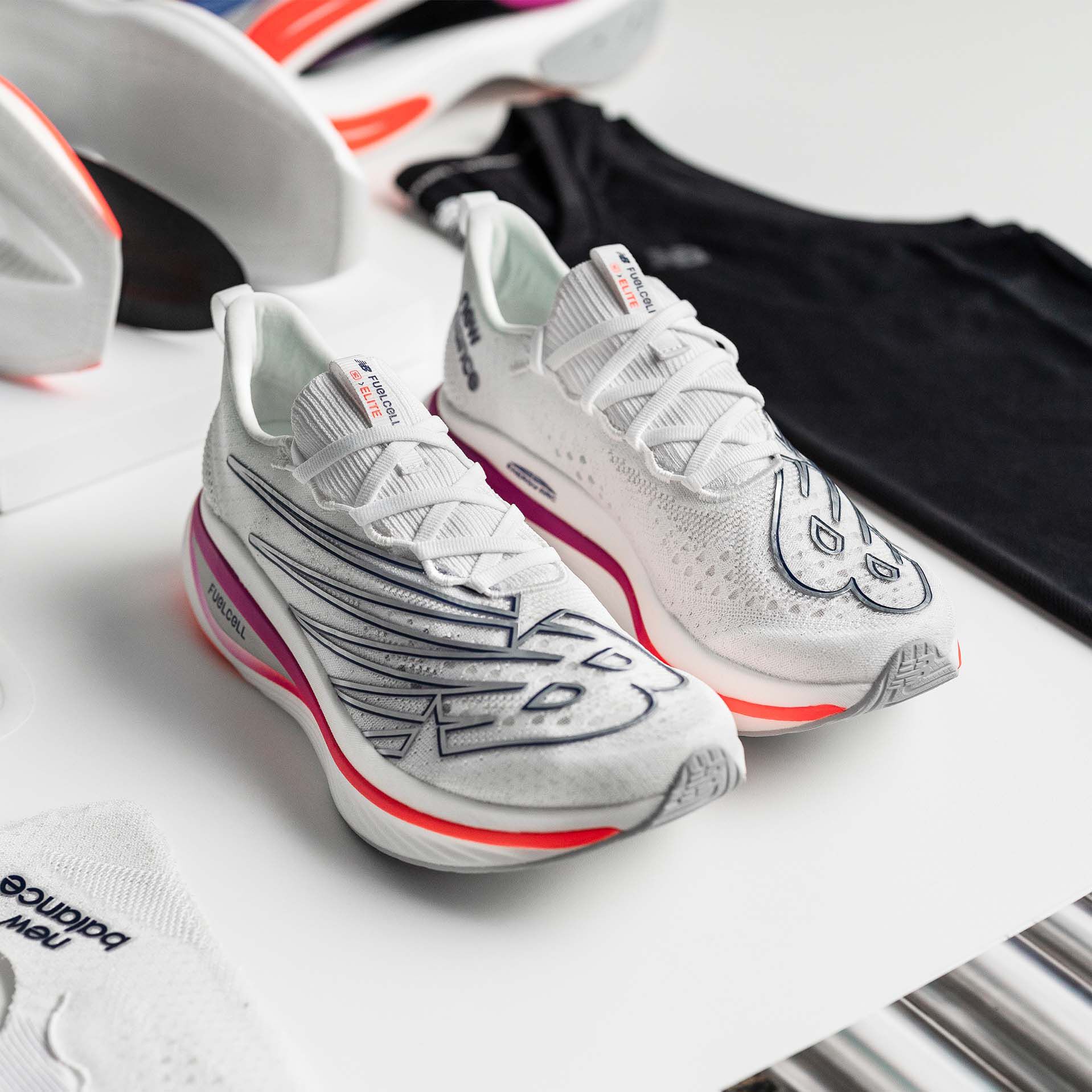 Behind the design
"Every piece of the SuperComp Elite v3 has a purpose. While designing the Elite v3 we had one rule; If something wasn't going to add to the racing experience, it didn't belong on the shoe. This design mentality, paired with athlete data from our New Balance Sports Research Lab, resulted in our most innovative racing shoe to date." - Chris Morfesi, Senior Product Manager
New Balance FuelCell
Developed to meet the ever-evolving demands of serious distance runners, the New Balance FuelCell collection is the perfect combo of speed, rebound and energy return. Showcasing an exciting array of cutting-edge performance-driven technologies, it promises to propel you to the next level. The core component of FuelCell running shoes is our nitrogen compound FuelCell foam technology - game changing midsole cushioning that delivers radically improved energy return performance. In a pair of New Balance FuelCell running shoes, you'll feel the benefits with every propulsive stride.
New Balance Rebel V2, SuperComp and more
Each one of our New Balance FuelCell running shoes in the range offers subtly distinct performance characteristics, allowing you to select a model that perfectly matches your running style and goals. For a comfortable, well-cushioned ride – look no further than the New Balance rebel v2 (FuelCell), up for training runs and intense runs alike. Every piece has its iterations. Adding to the collection came with careful consideration, if it wasn't adding to the racing experience then it had no place. Step forward the FuelCell SC Elite v3, it complements the midsole's super springy rebounds with the dynamic energy return and stability of our Energy Arc system and a full-length carbon plate. Every aspect of its design is developed to deliver PB-busting race day speed. Read our blog about Carbon plate running shoes. Meanwhile, the New Balance FuelCell Propel v3 offers exceptional day-to-day performance courtesy of lightweight uppers. If you're after a versatile all-purpose runner that's allows you to experience the high-rebound performance of FuellCell technology, then this is the collection for you.
New Balance Running Shoes
The complete collection of men's and women's New Balance FuelCell running shoes also includes the brilliantly bouncy FuelCell SuperComp trainers, another propulsive race day-geared design. As well as the lightweight FuelCell Rebel v3, a versatile daily trainer that combines FuelCell enhanced speed with everyday stability and comfort. An exceptional all-rounder that will suit every occasion, from light morning jogs to competitive marathons.